Adventures of 2.0
Feb 12
Sunday Salon: NetGalley Review-A-Thon
I've been mumbling and grumbling for months now about how I'm always behind with my reviews. I'm getting much better at actually squishing out time to read what I have for review, only asking for and accepting review books I'm itching to read and restraining myself from going request crazy on NetGalley and Edelweiss. 
And while I haven't read everything I'm 'supposed' to (and probably won't be able to until summer), I am very happy with how much I'm getting though. And I'm enjoying it! The next problem is getting my butt into gear with these gosh darned reviews. 
And so, I present: 
A weekend of as much reviewing as humanly possible. While I'm happy to rock this by myself, it's so much more fun with friends! To participate you simply do the following: 
Stick up a post somewhere declaring how many books you are aiming to review (this is important) with a link back to this post.
Comment here letting me know who you are and that your post exists.
Clear as much time as possible over next weekend!
Optional: Tweet as you review with #netgalleyrat 
REVIEW!
Ta da! I'm going to work on the honour system here. If you tell me you met your goal of x reviews, you get the cute badge thing. You guys probably don't want to be posting all your reviews at once so keep them, schedule them and just enjoy being a bit more caught up.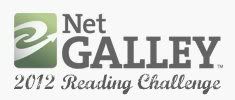 I will be hosting these events the first full weekend after each of Emily's (Red House Books) NetGalley month (January, April. July and October)  and remember, anything you read and review counts towards the NetGalley challenge!
How do you keep up with your reviews? I have a calendar but am terrible at sticking to it. I have 12 to review from NetGalley and a handful from other random sources. 
I hope you'll be joining us next weekend!
L xoxo 
P.S. - Thinking up a hash tag really makes me want to make a NetGalley rat mascot for the next review-a-thon!
Feb 11
Neverwhere: Neil Gaiman
In the tradition of Wizard of Oz and Alice in Wonderland, the reader is transported into another reality where the only way to survive to give up all we know and accept the realm of the seemingly impossible.
In London, Richard Mayhew is just an average guy, who is about to marry a beautiful woman, Jessica. One night, against his fiance's wishes, he stops to help poor girl in tatters who seems to appear from nowhere. Her name is Door, and she comes form a very different London, 'London Below'. A magical world of its own reserved for those people who have fallen through the cracks. A world where danger lurks around every corner. In helping her, Richard has found that he has fallen through the cracks, and his relatively quiet life is about to become a lot more interesting.
Gaiman populates the novel with all sorts of colorful characters like The Marquis de Carabas, a shifty character who owes a debt to Door's family, Mr Croup and Mr Vandemar, two cut-throats who take great pride and enjoyment in their work who are sent after Door, and Hunter a legendary warrior who dreams of slaying 'the beast of London'. There is even an Angel.
I think the idea of a parallel London is brilliant, though it's not a place I would ever want to visit. It certainly puts landmarks, and the suspect street characters that one would normally avoid, in a new light.
I found it to be a nice and easy read, that hooked me from beginning to end. Here is another for SF and Gaiman fans!
Kwame
Feb 10
Book Blogger Love-A-Thon
I'm posting this partly so I don't forget that I'm excited to participate (I hate when that happens!) and partly so you guys can all run over and sign up to share the love. Katelyn over at Tales of Books and Band's is determined to share some bloggy love over this Valentines, and I'm more that happy to join in!
Details from her post:
What is a Love-A-Thon, you may ask? It is quite similar to a Read-A-Thon but instead of reading books for an extended period of time, you will be spreading the love to bloggers all over!  Basically it will consist of fun posts, mini challenges, lots of commenting, and perhaps a giveaway or two!
When: February 17th 2012 at 12:00 a.m. EST until February 18th 2012 at 12: a.m. EST.
If you are intrigued, you can sign up to participate on Katelyn's blog and join in the fun! Her post has the answers to any possible questions you might have, so be sure to check it out. 
L xoxo 
Feb 08
Our February YA Speculative Fiction Recommendation is…
Every month we post one or two books that we feel are so good, everyone should try them as part of the 2012 Speculative Fiction Challenge. 
Kris picked this month's YA and it's the first in a series that has captivated readers.
Dru Anderson has what her grandmother called "the touch." (Comes in handy when you're traveling from town to town with your dad, hunting ghosts, suckers, wulfen, and the occasional zombie.)

Then her dad turns up dead - but still walking - and Dru knows she's next. Even worse, she's got two guys hungry for her affections, and they're not about to let the fiercely independent Dru go it alone. Will Dru discover just how special she really is before coming face-to-fang with whatever - or whoever - is hunting her? (Goodreads)
Why it was picked: There are two words which sum up my feelings about Strange Angels by Lili St. Crow and they are: Holy Cow. The first book in this paranormal young adult series blew me right off my feet from the get-go. With a beautifully realistic heroine, action that will constantly have you on the edge of your seat and amazing writing, this book will be an instant favourite. It's not one of those paint-by-numbers books either, the story manages to remain fresh and exciting with an ending that leaves the reader gasping for more. - Kris
Reviews from around the web:
"The book was something out of this world. I enjoyed every single bit of it. The plot and the drama was a lot. Every page was definitely a pager turner only revealing more and more secrets." Savy from Books With Bite
"Dru's voice pulled me in from the beginning: it's tough, smart and not a little sarcastic. But Lili St. Crow keeps it real by giving us flashes of Dru's vulnerability… Fair warning, there's some bad language, but if your dad was a zombie, you'd probably cuss, too."  Myra McEntire at Young Adult Books Central

Happy reading!
Feb 04
Lord of Light: Roger Zelanzy
Award winning American writer Roger Joseph Zelazny was known to snatch up existing mythologies for his own purposes. This one was no exception to the rule. Lord of Light was awarded the Hugo award for best novel in 1968 and apparently nominated for the Nebula for the same reason. It is also part of the SF Masterworks series, whose aim it was bring important books like this back into print. And if all that doesn't convince you, George R.R. Martin called it 'One of the five best SF novels ever written'.
Weird fact: It was announced in 1979 that there was going to be a film, but that fell through due to some 'legal issues'. CIA agent Antonio Mendez stole the script and the production drawings to conceal a rescue mission. Sometimes facts really are stranger than fiction.
Zalazny's novel is a bizarre blend of science fiction/fantasy with some Hinduism and Buddhism. Yama-Dharma, Tak, and Ratri have been cast down from the heavens cursed to live a mortal existence. Yama builds a massive prayer machine to call Mahasamatman, better known as Sam, back down from 'Nirvana' in hope that he may be able to help them in some way. He was the first to dare challenge the dictatorial 'deocracy' and, like Prometheus, try to bring knowledge and technology to the common people.
I thought the story was a little cheesy, but it was an enjoyable read. Zalazny's gods are not much different from the ones that you read about in Greek mythology; using those puny mortals as their playthings and smiting anyone who doesn't want to go with the flow. The gods seemed so human that early on the novel I began question their divine claims, it almost seems like they were just humans just posing as deities. There also seemed to be a religion versus reason debate going on as the gods attempt to cripple all technological advancements because they saw them as a threat to their power.
All in all, not my favorite novel, but an interesting read. Have you read this novel or any of Zelazny's other books? I'd love to hear your thoughts.
Kwame 
Feb 03
The Speculative Fiction Challenge: February Link Up
This is where you can link up your reviews, discussions and other Speculative Fiction type links. You must have already signed up as a participant in the 2012 Speculative Fiction Challenge to add your links and have your books counted towards your challenge goal. You can sign up until November 31st.
Each month we will select one or two books to be highlighted as our challenge recommendations to give you guys some ideas! 
We will be choosing a couple of posts each month to be highlighted on our blog! Feel free to add posts other than reviews (discussions, author guest posts or interviews and the like), we want to see what you've been up to! 
Feb 02
Game of Thrones Announcement(s)
So if you're participating in our Game of Thrones readalong, you may have noticed that Kwame's final readalong post has yet failed to appear. It will be coming up this weekend, he's finished but sick.
I, however, am nowhere near finished. In fact, I think I'm back at update two someplace. That was kind of a fail. So what we're going to do is…
Sunday: Readalong Part 4 from Kwame
Mid Feb: A general chat hosted by moi (Lisa) for those tragically far behind!
That should cover everyone! If you are already done and desperately wanting to talk about what you've read, Jenn has been an awesome co-host and has her post up!
Much love and happy reading! L xoxo